Seven men arrested after 8m counterfeit cigarettes are seized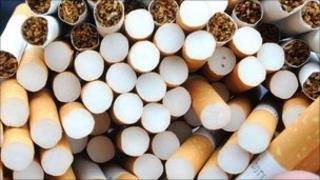 Seven men have been arrested and around eight million counterfeit cigarettes have been seized by HM Revenue and Customs (HMRC).
The cigarettes were found hidden in a shipment of under-floor heating pipes.
Five of the men arrested are from County Louth, one man is from County Limerick and one from County Armagh.
The seizures followed a raid by HMRC and PSNI officers on commercial premises in the Forkhill area of south Armagh on Tuesday.
HMRC estimated the cigarettes to be worth around £2.4 million.
People smuggling
John Whiting, assistant director of criminal investigation for HMRC, said tobacco smuggling was "organised crime on a global scale" which fed activities such as drug dealing, people smuggling and fraud.
"Purchasing cheap cigarettes without the duty paid on them means trading with criminals, and undermining honest businesses," he said.
Mr Whiting acknowledged that with many counterfeit cigarettes coming in "expertly crafted packaging" it can be difficult to identify fakes.
"But like any other counterfeit product, you have no idea exactly what you're buying."
The men who were arrested are currently being questioned by HMRC and investigations are continuing.