NI health trusts spend more than £78m on locum doctors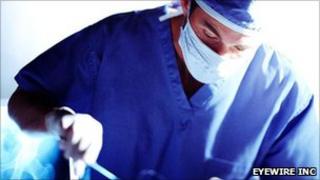 Northern Ireland health trusts have spent more than £78m over the past three years hiring locum doctors, it has been revealed.
SDLP health spokesperson Tommy Gallagher obtained the figure in a response to an assembly question put to Health Minister Michael McGimpsey.
Locum doctors are hired to cover absences due to sickness or holidays on hospital rotas.
Mr Gallagher questioned whether this was the best use of the health budget.
"Whilst I acknowledge and support the minister's view that locum doctors provide a great service to patients, there is concern regarding the relatively high cost of hiring them," he said.
Devastating
"Considering the devastating news to jobs, domiciliary care and cancer services announced by the minister at Thursday's Stormont Health Committee
"These figures clearly show that £78.8m, spread across the five health trusts, with nearly a third of that spent in Belfast Trust, is a quite a lot of money."
Mr Gallagher welcomed an assurance by John Compton of the Health Board that the amount spent on locums had been reduced in the current financial year.
Last year in Scotland, where the population is three times greater than in Northern Ireland, about £47m was spent on recruiting temporary doctors. In Wales, health officials there spent £12m.