Fourth man arrested in Michaela McAreavey murder case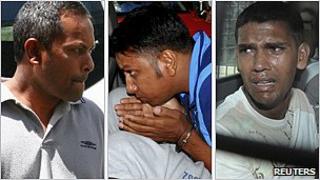 A fourth man has been detained in Mauritius in connection with the murder of Michaela McAreavey last week.
The 27-year-old, daughter of Tyrone Gaelic football boss Mickey Harte, was found strangled in her honeymoon hotel room.
Two men have already been charged with murder, one of whom has made a confession. Another man has been charged with conspiracy to murder.
Police said the fourth man detained is a member of the hotel staff.
Inspector Ranjit Jokhoo said that the man arrested works for hotel security.
The three men who have already appeared in court are Sandip Moneea, 41, Avinash Treebhoowoon, 29, who are charged with murder and 33-year-old Raj Theekoy, who is charged with conspiracy to murder.
Mr Treebhoowoon has confessed to the killing.
Mrs McAreavey's funeral was held near her County Tyrone family home on Monday in the same church where she married her husband John on 30 December.