Belfast judge calls for 'iron fist' for burglars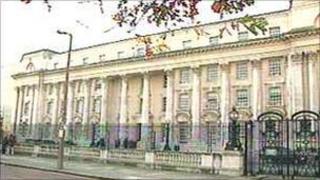 A High Court judge has called for an "iron fist" policy for armed burglars who terrorise people in their homes.
Mr Justice McLaughlin set out his zero-tolerance approach after hearing claims that a youth brandishing a knife confronted a woman in her own bedroom.
The judge described the alleged late night break-in at a house in South Belfast as a "horror story".
The 17-year-old, who cannot be identified due to his age, was remanded in custody.
Violent murder
He is accused of aggravated burglary with intent and possession of cocaine and diazepam drugs.
It emerged during the bail application that he previously witnessed his father's violent murder in an unrelated case.
The youth allegedly forced his way into the house on Charleville Avenue, where the woman lives with her two young daughters, early on 12 January.
A Crown lawyer claimed he made his way into her bedroom armed with a kitchen knife taken from downstairs and demanded money.
He then left, stealing an iPod and laptop computer, according to the prosecution.
Police located the suspect in a nearby garden with the MP3 player and suspected drugs in his possession, the court heard. The computer was recovered a short distance away.
He denied any knowledge of the break-in and claimed to have bought the iPod for £20.
Defence counsel Richard McConkey also argued that the aggravated burglary charge could not be sustained because the knife was allegedly taken inside the property.
But Mr Justice McLaughlin made clear that anyone involved in such armed raids must be stopped "once and for all".
Face to face
The judge said: "If the law isn't going to use the iron fist for this kind of thing we don't live in an ordered, democratic society.
"Society falls apart and people get away with it."
Mr Justice McLaughlin pointed to the allegation that the accused stood "face to face" with the woman in her bedroom.
"It involved the use of a knife in the context of a woman on her own with her young daughters. A horror story," he stated.
Mr Justice McLaughlin acknowledged that the accused had himself watched his own father being killed.
No further details of that murder can be reported to protect the teenager's identity.
The judge added: "I have to say, I would have done any reasonable thing I could to have facilitated bail for this young man given what I know happened and what he witnessed.
"But there are other people to consider here and he will have to pay the price for that. He is not appropriate for bail in the meantime."