Ministers clash over 4,000 job losses warning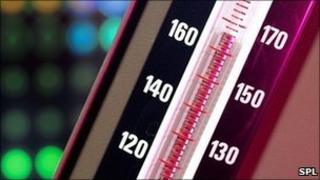 Tensions in Northern Ireland's powersharing Executive at Stormont have resurfaced in clashes over potential job losses in the Health Service.
DUP Finance Minister Sammy Wilson accused UU health minister, Michael McGimpsey, of "scaremongering".
It followed Mr McGimpsey's warning that 4,000 jobs could be lost in the Health Service because of budget cuts.
"Mr McGimpsey's comments are not helpful to public confidence," Mr Wilson said.
"It's a rash estimate."
The finance minister added: "All this serves to undermine public confidence. He (the Health Minister ) is going for a dramatic headline rather than looking at how costs can be reduced.
"The first thing the minister should be doing is looking at how costs and efficiencies can be found."
However, Mr McGimpsey described the draft budget allocated for health as "a joke".
"The figure of 4,000 possible job losses is an accurate figure. He has already cost us 1,500 jobs with a black hole that appeared in the funding previously," Mr McGimpsey said.
Health officials warned last week that 4,000 jobs in the health service could be lost over four years as a result of the NI budget cuts.
Some of the 4,000 predicted job losses will be through natural wastage and retirement, but there will be some compulsory redundancies, they said.
To provide an efficient service, officials said they needed £5.4bn by 2015 - instead they are to get £4.6bn - a shortfall of £800m.
Mr McGimpsey said the £300m in end-of-year financing (EYF) that the Department of Finance said has been taken by the Treasury, could have been used for building programmes at hospitals.
In a debate over whether corporation tax in Northern Ireland should be reduced to a rate similar to the 12.5% rate in the Republic of Ireland, Mr Wilson stressed that there was a significant cost which had to be met by the Executive.
" We need to ask what is the bill attached to this. On top of the current spending cuts we could not afford a further two, three or four hundred reduction in public spending. All of this needs to be teased out and there is still a lot of work to be done."
The finance minister was addressing a breakfast briefing of the Northern Ireland Assembly and Business Trust.