Eleven year term for Crossmaglen police station bomber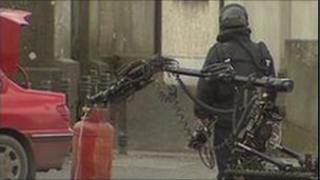 A man who admitted conspiracy to cause an explosion outside a police station has been jailed by a Dublin court.
David Murphy, 30, from Ashling Park in Dundalk, admitted being present when a stolen car left outside Crossmaglen police station on 3 April 2010 was fitted with a bomb.
Murphy also admitted phoning the Samaritans with a bomb warning.
Jailing Murphy for 11 years on Tuesday, the judge said his guilty plea had resulted in a reduced sentence.
Detective Superintendent Diarmuid O' Sullivan, told the Special Criminal Court that a car was abandoned outside the Crossmaglen PSNI station at 2241 BST on 3 April last year.
A man who telephoned the Samaritans in Newry around the same time used a recognised codeword and said a bomb had been left outside the police station.
A bomb disposal expert who examined the car saw two gas cylinders, wiring and a car battery in the car.
Following a controlled explosion the device was made safe and the gas cylinders were found to contain a mixture of petrol and paraffin and the cylinders had initiators and a toggle switch fitted.
Passing sentence, Mr Justice Paul Butler, presiding at the three judge non-jury court, said Murphy had pleaded guilty to a very serious offence which attracted a maximum sentence of 20 years.
The judge said that the court, having taken everything into account, had reached the conclusion that the correct sentence was 11 years imprisonment, backdated to the date of his arrest on 7 May last year.