£1bn spend on NI's divided society 'should go on water'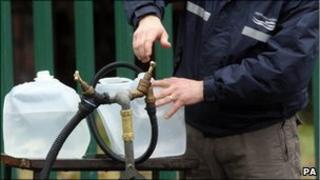 NI's water infrastructure could be upgraded by using the £1bn spent on our divided society, the Royal Institution of Chartered Surveyors said.
RICS NI chair Prof Alastair Adair said some experts put the bill for funding a segregated society at £1.5bn.
"Division in our society costs Northern Ireland dear," he said.
The cost is evident in duplicated services, lost inward investment and the negative impact on the workforce and education, he said.
Professor Adair called for a "serious and open" debate on how to fund an update of our water service.
He was speaking after an unprecedented crisis over Christmas, when a thaw following severe weather led to burst pipes and disrupted water supplies across Northern Ireland.
About 40,000 homes had their water supply disrupted during the crisis. Some people were left without water for more than a week.
Professor Adair said domestic water charging would provide the funds to improve the system.
"It is the view of RICS Northern Ireland that water charging should be introduced as soon as possible to help protect the capital budget - but there is significant political and public resistance to this," he said.
"If our politicians are not going to introduce domestic water charging, they need to look at other ways of funding investment."
Using money spent on division was an alternative, he pointed out and should be a "key aspect of the debate".
The RICS, which has 3,000 Northern Ireland members and a remit to act in the public interest, launched its Northern Ireland Manifesto on Tuesday.
The chief executive of NI Water, Laurence MacKenzie, resigned after his handling of the situation came under fire.
A review into what happened in the water crisis has been set up, with the utility regulator set to look into the role of NI Water in the crisis.
It is expected to report back by the end of February.