Deanes loses Michelin star status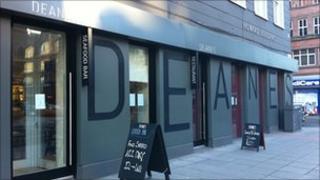 Deanes restaurant in Belfast has lost the Michelin star status it has held for the last 14 years.
The restaurant has been downgraded in this year's Michelin Guide Great Britain and Ireland 2011.
The six restaurants in the Irish Republic with stars have retained the accolade.
There are a record 143 starred restaurants in the Michelin Guide Great Britain and Ireland 2011, up from 140 last year.
Michael Deane returned to Northern Ireland in the 1990s to set up Deanes on the Square at Helen's Bay in County Down after a spell at Claridge's in London.
He now owns a number of eateries across Belfast.
Responding to the news that Deanes at Belfast's Howard Street had not received Michelin star status for 2011, Mr Deane said he was disappointed but not surprised, as the restaurant had to close for four months at the start of last year due to flooding.
"As a result of the disastrous flood we experienced during the severe weather in January last year, we were forced to close our premises in a period of time that would have been crucial for Michelin inspections," he said.
"I have always warned that Michelin Stars are not to be taken for granted and so I always suspected this year that it would be unlikely that we would retain our star."