Holywood row puts disabled parking in the spotlight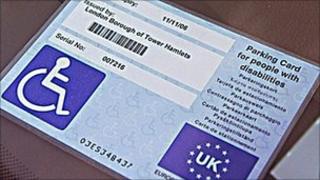 The abuse of disabled car parking spaces has been thrown into the spotlight following a row over the issue in Holywood, County Down.
It is the NI Roads Service's responsibility to enforce parking penalties on streets or roads, but not if the disabled spaces are on land it has no control over.
North Down councillor Ian Parsley says designated parking spaces for residents at Housing Executive property in Holywood's High Street area are being exploited by people who leave their vehicles there before hopping on public transport to Belfast.
"The parking spaces exist on Housing Executive property and therefore the road isn't allocated which means the police and the other authorities cannot enforce the parking regulations," he said.
"It strikes me as incredible we have disabled spaces clearly marked out and we also have a series of signs up saying 'Residents only, no parking', but these are widely ignored because people realise there is nothing that can be done to enforce this."
Blue badge holder, Ashia Hyndes, is one Holywood resident who has been affected by others taking advantage of the disabled parking bays and says it has been a "nightmare".
"It's extremely important we get that access, because I myself cannot walk that far - it is vital for me to be near and have access to my disabled bay," she said.
"It is very common, people take advantage of the disabled bays and they are not even disabled in the first place and they just park for no reason whatsoever.
"People who are doing this, please stop it and respect other people."
In a statement, the Housing Executive has asked able bodied drivers not to park in the spaces reserved for disabled drivers.
Orla McCann of Disability Action said it was unfortunate "confusion" existed in the administration of "parking in this sense" and that there were differences between on-street parking, off-street parking and parking on private land.
"We would call on people to resist the temptation to use these parking bays," she said.
"You might think 'I am only going to be a minute', but that can end somebody's day trip for them.
Planning policy
"Only blue badge holders are entitled to use these bays and they themselves should be displaying their badges on the dashboard when using these bays and if you don't have your badge you shouldn't be using the bay."
She said planning policy required that private land owners provide a "certain percentage ratio" of parking for disabled people, but "they are not given any information thereafter about how to manage those spaces".
"That's one of the problems that's existing because whilst parking law, parking enforcement in its current sense doesn't necessarily give any powers in that private context, there's another piece of law that does apply to the service provider and which puts the duty of care very clearly at the door of the service provider and that's disabilty law," she said.
"Parking counts as a reasonable adjustment, but if it's being abused by somebody who isn't entitled to use it, it might as well not be there and that is covered by the law and it is down to the service provider to manage those spaces."
She said the charity encouraged the Department for Regional Development "to do more in terms of enforcement and provide more information to private car park owners".