Dissidents behind bomb attack on Londonderry office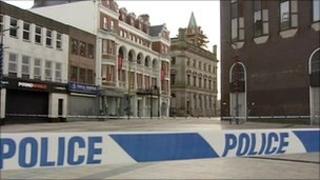 Dissident republicans have said they carried out an attack on the city of culture office in Londonderry.
The claim was made in a call to a Derry newspaper using a recognised code word.
A police spokeswoman said an investigation into the bombing was continuing but refused to comment on who was behind the attack.
A small device exploded outside the City of Culture office at Waterloo Place on Monday at about 0330 GMT. No-one was hurt and the damage was minor.
SDLP MP for Foyle Mark Durkan said those responsible for the attack were "anti-Derry".
Former Sinn Fein Mayor of the city, Paul Fleming, said the attack would achieve "absolutely nothing".