Man and woman rescued from separate house fires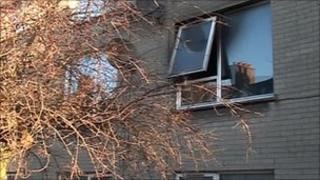 A man and a woman have been rescued from two separate house fires in Counties Londonderry and Antrim.
The woman in her 30s, was found unconscious in the upstairs bedroom of a house at Ardfoyle, Brandywell.
Firefighters carried her to safety after extinguishing a blaze in the living room. The cause of the blaze is under investigation.
In Whitehead, a man was saved from a fire at Adelaide Avenue which broke out at 0100 GMT on Tuesday.
He was taken to hospital suffering from the effects of breathing in smoke.
At the Londonderry fire, Jonathan Tate from the Fire Service said six firefighters wearing breathing apparatus were involved in the rescue.
"The Fire Service forced entry to the rear of the property. Six firefighters wearing breathing apparatus extinguished the fire in the living room," he said.