Ex UUP MLA David McClarty stands as independent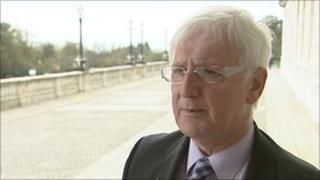 Former Ulster Unionist MLA David McClarty has confirmed he will stand as an independent in the forthcoming Assembly elections.
Mr McClarty has represented the Ulster Unionists in the Assembly since 1998 but was deselected for the May poll.
The East Londonderry MLA subsequently resigned from the party, describing his decision as difficult and sad.
He is one of a number of high profile figures within the UUP to resign in recent months.
Paula Bradshaw, Harry Hamilton and Trevor Ringland all resigned after standing on the joint ticket with the Conservatives at the general election.
Mr Hamilton and Ms Bradshaw subsequently joined the Alliance Party.
Mr McClarty has been a deputy speaker in the Assembly since 2007 and has been on Coleraine Borough Council since 1989, where he currently sits as an independent.