Former boxer Eamonn Magee in court over bail breach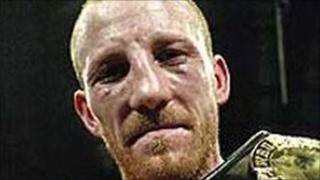 Former world boxing champion Eamonn Magee has appeared in court charged with breaking bail conditions.
The 39-year-old of Eskdale Gardens in Belfast is awaiting trial on charges of breaching a non-molestation order and harassing his ex-partner.
He was returned to custody after police detected he had been drinking when he went to report to them as part of his bail terms.
Describing her decision as marginal, the magistrate granted bail.
A police officer had earlier told the court that Mr Magee should be kept in custody until his trial.
The constable said: "If I was to say to you to bail (him) on the same conditions all that will happen is we will be back here again and again and again.
"This man does not abide by bail. He continues to disregard the orders of the court.
"We say there is a risk to the public if this man continues to drink, that there will be further offences," he added.
High profile matches
A defence barrister argued it would be wrong to retain Mr Magee in custody on charges which he claimed were unlikely to lead to a conviction.
The barrister argued that his partner was no longer prepared to cooperate with the prosecution case.
Mr Quinn also referred to his client's well-publicised battle with depression and mental health problems, adding that police have been able to keep a close eye on him.
"He has been heavily involved in the last couple of weeks in fairly high profile boxing matches in terms of preparation of fighters," he said.
"He was there for everyone to see, I think he was on television training boxers - obviously not under the influence of alcohol and not engaging in criminality."
District Judge Fiona Bagnall agreed to re-admit Mr Magee to bail after pointing out it was "a fine line" between that and custody.
Her decision was based on the alleged victim's likely non-attendance and because the non-molestation order has expired.