Belfast man jailed for Odyssey attack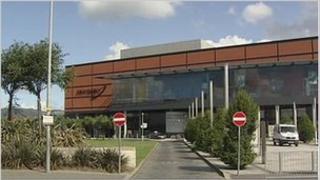 A man has been jailed for his part in a gang attack outside the Odyssey Arena in Belfast.
Anthony Benson was given a seven months sentence for assaulting a stranger at the entertainment complex last November.
The 24-year-old pleaded guilty to assault occasioning actual bodily harm at Belfast Magistrates' Court.
Defence lawyer John Finucane said Benson had been drinking heavily prior to the attack.
He was with two friends when they jumped from a car and began to beat their victim close to the Odyssey's entrance, inflicting facial injuries.
Benson, from Ross Mill Avenue, Belfast, was said to be the front seat passenger in the vehicle, which was tracked down by police after being captured on CCTV at the scene.
He had been drinking with two friends when one of them received a text message from a girl at the Odyssey.
Mr Finucane told the court she claimed the victim was "badgering or harassing her".
The solicitor said: "He (Benson) stated he wasn't fully aware of what was going to happen.
"He wasn't the first person to throw a punch on the prosecution papers. He is very remorseful and has asked me to apologise to the injured party."
Passing sentence, District Judge Fiona Bagnall acknowledged Benson's early guilty plea.
But imposing the jail term, she said: "The circumstances of the attack are very concerning and are aggravating factors in my opinion."