Cancelled surgery at Mater Hospital eases A&E pressure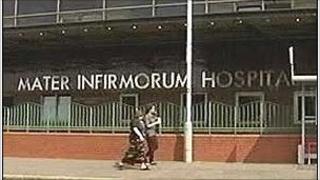 The Belfast Trust said it has cancelled some surgical procedures at the Mater Hospital in order to cope with large numbers of Accident and Emergency patients.
On Sunday, the Trust began diverting A&E patients from the Mater to the Royal Victoria and City Hospitals.
The diversion ended on Monday morning.
A spokesman for the Trust said it had cancelled a small number of operations to help deal with demands.
He added: "As more patients needed to be admitted to the hospitals we have opened extra beds and drafted in additional staff to deal with the demands.
"Today we cancelled some non-urgent elective surgery although for most patients surgery went ahead as planned."
Ray Hannon, the Trust's medical director, said all three of its hospitals, particularly the Mater, are "under pressure" but denied an influx of flu patients was the cause.
He added: "There are great delays in getting patients assessed, admitted and discharged.
"It is not a flu thing. There are only nine patients with flu out of around 1,350 beds. So it is not a flu problem, it is a winter pressures problem."
Mr Hannon said a large number of people are presenting at A&E with fractures and chest infections.
Catherine Arkinson from public sector union NIPSA said the situation is "unusual".
She added: "I understand this is a rare occasion for the Mater Hospital.
"It would be unusual. My understanding is that the Mater Hospital is able to deal with most A&E patients that come to them."
The Ambulance Service has also been informed of the diversion and 999 calls are being sent to the Royal Victoria and City Hospitals.