Bomb caused explosion at Londonderry city centre office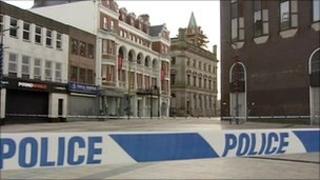 Police have confirmed that an explosion in Londonderry earlier on Monday was caused by a bomb.
A police spokesperson said a small device exploded at about 0330 GMT outside the City of Culture office in Waterloo Place.
The attack caused some damage to the door of the office.
Waterloo Place, Guildhall Square and some surrounding streets remain sealed off, although police have said they hope to reopen the area by lunchtime.
Politicians in Derry have condemned those behind the attack.
SDLP MP for Foyle Mark Durkan said those responsible for the attack were "anti-Derry".
"So-called dissidents are literally waging an anti-Derry campaign and showing themselves to be enemies of the people of this city," he said.
"They have nothing to offer Derry. They are only attacking what this city has to offer."
Former Sinn Fein Mayor of the city, Paul Fleming, said the attack would achieve "absolutely nothing".
"There are people working very hard at the City of Culture offices to attract investment, tourism and job creation for the citizens of Derry, and working to ensure that Irish culture is fully included in the plans for Derry in 2013", he said.
"The last thing they need is an incident like this taking place which is attempting to undermine that good work."
The Manager of Derry City Centre Initiative, Jim Roddy, was at the scene. He said little damage had been caused to the City of Culture offices.
"I think it is ludicrous. People are trying to get to work this morning, but some other people think they shouldn't be allowed to go about their business," he said.
"What is important is that the citizens of Derry stand together and ensure that the very tiny minority who want to stop the city operating properly do not succeed."
The PSNI are asking anyone with information about the incident to contact them.