Legal bid to stop PSNI using tasers fails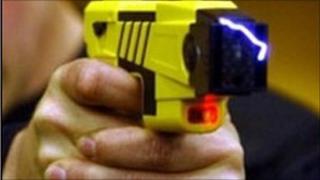 Northern Ireland's most senior judge has rejected a legal attempt to ban police from using taser stun guns.
Lord Chief Justice Sir Declan Morgan dismissed an application to stop their introduction.
He also refused to grant an order to overturn decisions of the Policing Board to support the Chief Constable over their deployment.
The challenge was brought by a Belfast girl whose grandmother was killed by a police plastic bullet in the 1980s.
Lawyers for the child, who was not identified, argued that a proper equality impact assessment was not carried out, and that use of tasers breached the "right to life and right to freedom from torture".
Former PSNI Chief Constable Sir Hugh Orde received Policing Board endorsement in 2008 to bring in the weapons.
Up to 88 were acquired on the condition that they are only used by authorised and specially trained officers.
Ruling on the case at the High Court in Belfast, Sir Declan rejected a claim that the police monitoring body was wrong to decide introducing tasers was an operational decision for the Chief Constable.
The judge also declared himself "entirely satisfied" that the decision to deploy the weapons on a pilot basis was well within the range of rational decisions open to the Chief Constable.
He pointed out that police proposals had been discussed with the board and the Equality Commission, leading to a decision to conduct an equality impact assessment.
'Public disorder'
Sir Declan said this suggested it was prepared to enter into dialogue and even alter their position as a result.
Holding that the applicant could not be classed as a victim under the terms of the Human Rights Act 1998, the judge noted how the eight-year-old girl is the granddaughter of a woman killed in disputed circumstances in July 1981 by a plastic bullet fired by police.
The child was said to have fears a similar fate might befall her mother.
But Sir Declan ruled: "There is no suggestion that the effects or operational guidance in relation to the use of these weapons is similar.
"Plastic bullets were designed to be used in situations of public disorder. The operational guidance in relation to tasers indicates that they should never be used in such circumstances."
The court was told the child lives in an area of west Belfast where a notorious feud has been ongoing between two families.
The judge said: "There is no material before the court to indicate any circumstances in which this child was or might be in a situation which might lead to the deployment of a taser in her vicinity.
"I consider that on the facts of this case this applicant is in no different position to any other child in Northern Ireland."
Sir Declan also held that procurement and deployment of the weapons did not breach the child's right to life under the European Convention on Human Rights.