Vandals attack Orange Hall near Aughnacloy in Tyrone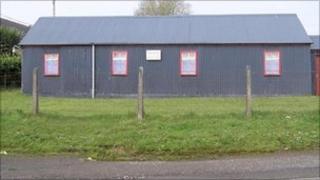 Vandals have attacked an Orange Hall outside Aughnacloy in County Tyrone.
Police said that they received a report in the early hours of Saturday morning that windows had been smashed at Dergina Orange Hall on Derganagh Road.
Paint was thrown over the door of the hall, which was built in 2009.
The secretary of the Grand Orange Lodge of Ireland, Drew Nelson, condemned the incident as a "sectarian attack on the Protestant community and its way of life".
The hall is used by both the local Orange lodge and Dergina Accordion Band which celebrates its 50th anniversary this year.
Ulster Unionist leader and Fermanagh and South Tyrone MLA Tom Elliott said that "mindless thugs intent on creating community division" were responsible for the attack.