'Wee Cock and Hens' spared the axe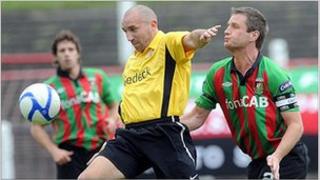 In East Belfast the shipyard and ropeworks are gone - one icon remains and that's Glentoran Football Club.
Recently Glentoran's name and its grounds, the Oval, have been in the global spotlight with Matty Burrows up for the FIFA Goal of the year award.
At the same time the club, known affectionally to fans as the Wee Cock and Hens, was facing real problems.
It owed £300,000 to the Inland Revenue - that's been paid off.
The First Minister Peter Robinson, himself a Glentoran fan, was asked by the club to help.
He met with an anonymous benefactor who has effectively saved the club with a huge donation.
The 60s were arguably one of the most successful decades for the Glens - at one stage the team travelled to the US for a competition and were re-branded the Detroit Cougars for the tournament.
On a bitterly cold January night, the squad is training under the floodlights in readiness for their next game. Never far away in the shadow is the financial situation.
No-one will go on the record about what wages a top player can command in the Irish league - during the boom years many had lucrative salaries.
Some say it's unfair to brand some footballers as mercenaries
For those close to the club, it's probably one of the worst periods off the pitch they've ever known.
The average home gate is 1,400 people. It's an uncertain time for supporters - for many of them the club has been the focal point in their lives.
The Spirit of 41 Group was set up by the club's fans when the HMRC issued the winding-up order.
They have collected thousands of pounds by holding fund-raising events.
When looking at how the club got their finances badly wrong there seems to be several key areas - paying players too much money, keeping up with other clubs, lack of sponsorship and not enough people coming through the turnstiles, allied with long-term debt have all combined.
Glentoran is not the only club to find itself in a poor financial state and it won't be the last.
Across the water, off-the-pitch finances at Leeds United and Portsmouth have made front page headlines while more recently and closer to home, both Coleraine, and south of the border, Dublin side Shelbourne, came perilously close to going out of business.
Meanwhile, the day-to-day work at the Oval continues.
Grass gets cut, nets are mended, kit gets cleaned - mostly by volunteers with a love for this last remaining icon of East Belfast.
The documentary Come on the Glens can heard on Radio Ulster Sunday 16 January at 1.30pm and later on the BBC iPlayer.