Golfing Irish prime minister in the bunker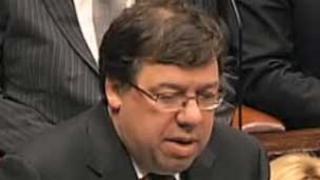 Irish Prime Minister Brian Cowen is currently sounding out his Fianna Fail back-benchers on his continued leadership.
The party faces an imminent general election with its lowest opinion rating in its history.
Should he stay or should he go?
That is the question that hovers over Brian Cowen's consultation with his back-benchers as he meets them individually in his offices in the centre of Dublin.
He has not been a lucky leader, taking over at a time when the Republic's economy crashed.
That crash was caused by a property bubble which has resulted in the virtual nationalising of the Irish banking system because of all the money the financial institutions lent to property developers.
Felt uneasy
In the public mind there was an unholy trinity of developers, bankers and the Fianna Fail party.
So, when this week stories started to emerge that Mr Cowen had played golf with, and shared an evening meal with senior officials from Anglo-Irish Bank, beloved of the construction industry, many in Fianna Fail felt uneasy.
Anglo-Irish, which is now widely viewed as toxic, is expected to cost the Irish taxpayer 34 billion euro - around an entire year's tax take.
The previously undisclosed golf game and meal at one of Ireland's most prestigious clubs, Druid's Glen, in 2008 once again appeared to highlight Fianna Fail's close association with Anglo-Irish.
Mr Cowen has insisted that nothing untoward happened at the meeting and there is no evidence to contradict him, but at this stage that is not the point.
Before the latest revelations, the taoiseach and Fianna Fail were already facing into an expected spring general election with their lowest ratings in history after last year's 85 billion euro bail-out loan from Europe and the IMF.
Heavy losses
And the truth seems to be that Mr Cowen's current difficulties are really about the polls and the perception that, as long as he is leader and associated with Ireland's economic crash, Fianna Fail will be hammered.
Nobody expects the party to do well in the election; at this stage it's all about damage limitation because defeat and heavy losses are a virtual certainty.
The taoiseach's future now lies in the hands of senior ministers like Micheal Martin, Brian Lenihan and Mary Hannafin, who are responsible, respectively, for foreign affairs, finance and tourism.
If they tell him it's in the party's interest that he should go, then it becomes very difficult to see him surviving.
And while some in the party with no great love for Mr Cowen say it's too late to change leaders, others point to the Australian Labour party last year successfully changing prime minister shortly before the election campaign began.
There is much to ponder.
So, what will the Fianna Fail parliamentary party tell Mr Cowen?
Should he stay or go?
We should know the answer within days.