First Minister Peter Robinson helps save Glentoran FC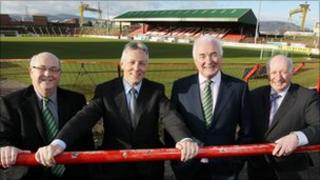 Northern Ireland's First Minister Peter Robinson was involved in persuading a mystery businessman to save a Belfast football club in financial difficulties.
In November the taxman issued Glentoran with a winding-up order over a debt of £300,000.
The club also has other debts of £1m.
However, after approaches by NI First Minister and Glentoran fan Peter Robinson, an anonymous benefactor gave the club £450,000.
The businessman insisted on anonymity as part of the rescue package.
Mr Robinson would only reveal that he and a DUP colleague Robin Newton met the man, formerly from Belfast, somewhere in the UK.
"I went over and met him, along with my colleague Robin Newton who happens to be a Linfield supporter," he said.
"Robin and I sought to encourage him to put some money and invest in Glentoran.
"As events transpired, he gave 50% more than we asked for, 50% more than Glentoran needed for their immediate requirements, and did so by way of a gift."
Mr Robinson will be meeting with the Glentoran chair and vice-chair,Terence Brannigan and Aubry Ralph, following a shareholders meeting on Wednesday.
Another stipulation involved a board room shake-up.
Taking up positions on the board are Brian Ambrose, director of operations at Belfast City Airport and Belfast Harbour Commissioner David Russell.