'Firework' sparks Belfast city centre security alert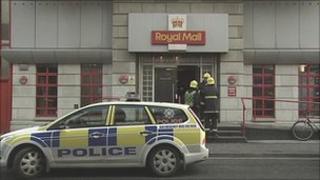 The Royal Mail has said a firework caused a small explosion and prompted a security alert at a sorting office near Belfast city centre.
The explosion happened as an employee was opening a package containing the firework. The employee was not injured.
Army Technical Officers and the Northern Ireland Fire and Rescue Service were dispatched to the scene in the Tomb Street area.
The building was evacuated for about half an hour.
The fifth floor office acts as national returns centre for all undelivered UK post.