Bloody Sunday march 'will be the last'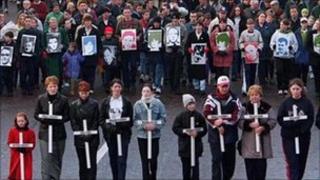 This year's Bloody Sunday commemoration march will be the last, the organisers have confirmed.
A statement signed by the majority of the families said it was no longer necessary after the Saville Report exonerated the dead and wounded.
They will now decide how best to mark future anniversaries.
Thirteen people died when British paratroopers opened fire on a civil rights march in Londonderry in January 1972. A fourteenth died later.
In the statement, the families acknowledged a "huge debt of gratitude" to those who supported them over the years.
"We again salute all those who have stood shoulder to shoulder with us over the last 40 years in our campaign for truth and justice and ask you to join us on the streets on 30 January to finally complete our journey."
Thousands of people are expected to take part in the final march on 30 January.
A number of options are now being considered to mark future anniversaries, including an annual gathering of remembrance at the Bloody Sunday monument, a remembrance Mass, a human rights weekend and an annual Bloody Sunday lecture.
'Truth and justice'
Tony Doherty, whose father Patrick was killed on Bloody Sunday, said it was right that the tradition of a commemorative march come to an end.
"The march has always been used as a tool for our campaign for truth and justice.
"It was used to keep the memory of the dead alive and to keep the injustice and the denial of truth in the public eye.
"We don't expect and we can't expect the people of Derry to keep marching on our behalf when the vast majority of us believe the campaign has been successfully concluded."
But Kate Nash, whose brother William was also killed on Bloody Sunday, said she felt the issue had not been properly discussed.
"We didn't all come to any decision.
"The substance of what's being said about what should happen, there's nothing wrong with that because that would be there anyway, but why take the march away?
"That belongs to the people of this city, and it would be extremely arrogant of my family to imagine we could make a decision to end a march that belongs to this city.
"We believe the people of Derry will speak and let their wishes be known on this issue, and my family will respect and abide by their wishes."