Queen tribute singer Harry Hamilton with Alliance Party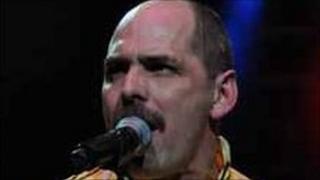 Former Ulster Unionist general election candidate, Harry Hamilton, has joined the Alliance Party.
Mr Hamilton, a well-known Freddie Mercury impersonator, polled more than 10,500 votes in Upper Bann in the election.
He quit the UUP last month after he was rejected as a candidate for next year's assembly elections.
At the time, he said he said he would be open to an approach from the Alliance Party.
Announcing Mr Hamilton's move on Friday, Alliance Party leader, David Ford, said it "demonstrated" the party was "leading change and that more and more people from across the community believe in our goal of a truly shared future".
"It speaks volumes that Harry was the person who polled highest out of all of the Ulster Unionist Party candidates in the general election, and the fact that he has decided to come to us demonstrates the current momentum of the Alliance Party," he added.
"Harry is someone who I believe can make a real difference and can have a very important role in delivering for people in the Upper Bann area."
Mr Hamilton said he believed Alliance had shown it was prepared to engage with a "growing section" of people who "feel disillusioned and disappointed with the blinkered political parties that continue to distil political debate here into a tribal headcount".
"The forthcoming election must not be about contrived political pacts, or about who tops the poll," he said.
"This election is about delivering for people - the ordinary working people trying to make ends meet who want responsible, honest and effective government that works for everyone.
"It's time for people to stop choosing their politicians on the basis of historical differences and start looking to the future. I believe that Alliance holds the key to a better, shared future in Northern Ireland."
The DUP's David Simpson defeated Mr Hamilton in the general election last year, by polling 14,000 votes.