Michaela Harte's body returns to family home on Friday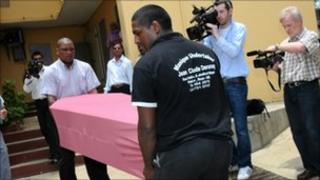 The coffin containing the body of Michaela McAreavey is due to arrive back in Northern Ireland from Mauritius at lunchtime on Friday.
Mrs McAreavey, 27, daughter of Tyrone Gaelic football boss Mickey Harte, was found murdered in her honeymoon hotel room on Monday.
Three men have been charged in connection with the murder.
Her funeral will be held next Monday - in the same County Tyrone church where she married on 30 December.
Mrs McAreavey's remains were taken from the hospital in Port Lewis on Thursday and placed on a flight to London.
The Harte and McAreavey families issued a joint statement thanking people for their support and detailing funeral arrangements.
"As Michaela returns home we respectfully ask for full privacy to allow our two families, united in sorrow, to have the space and time to spend with a much-loved wife, daughter and sister.
"Therefore the wake and private family service on the evening of Friday 14 January will be for immediate family only."
The families added that anyone wishing to pay respects could do so at the family home on Saturday and Sunday.
Requiem Mass for Mrs McAreavey will take place on Monday at 1230 GMT at St Malachy's Church, Ballymacilroy.
The Irish ambassador to South Africa, Brendan McMahon, travelled to Mauritius this week to help with the repatriation of Mrs McAreavey's body and provide support to the two families.
He said the Mauritian authorities had moved with the "required speed" on the repatriation issue and said the "trauma" resulting from the killing had been shared by people on the island.
"This is a very quiet tourist island and everybody here is extremely shocked and stunned by this murder," he said.
"The staff in the hotel where this occurred themselves organised a memorial service yesterday, a very moving event, to try to empathise and to express their solidarity with the families in these awful events."
Custody
Police in Mauritius said on Thursday that one of the three men charged in connection with the murder of Michaela McAreavey had confessed to the killing.
Avinash Treebhoowoon, 29, appeared in court on Wednesday, along with two others.
It followed the revelation that a lawyer for Raj Theekoy, who is charged with conspiracy to murder, said his client had spoken to police and implicated the other two men.
Sandip Moneea, 41, and Mr Treebhoowoon appeared in court on Wednesday accused of her murder.
All three were remanded in police custody for a week and will return to court next Wednesday, when they are expected either to be formally charged or released.
It is understood, police are questioning several other people about the killing.
Detective Superintendent Yoosoof Soopun from the Mauritian police, who is leading the investigation, said they believed Mrs McAreavey interrupted the men stealing money from her room.
Journalist Livay Frivet who is in Mauritius said police took two of the accused men back to the room at the Legends hotel on Thursday for a reconstruction of what had happened.
"According to police sources, the men were there to rob. They were surprised by Michaela returning so quickly to her room after leaving some minutes before," he said.
"They are employees of the hotel and they would have gone to jail for simple robbery. So they were panic stricken and they attacked Michaela."
Mr Frivet said the men could face a maximum of up to 60 years in jail if found guilty of murder. The term is usually about 45 years, he said.
"Murder is not rare on the island. But this is very unusual - not a single tourist has been killed in the past," he said.
BBC NI reporter Mervyn Jess said the men could be charged with either murder or manslaughter which, in Mauritius, carries a sentence of 18 years in prison.
It is understood that it could be up to a year before the case gets to court.
"The investigation could take several months," Mr Jess said.
"But this case is very high profile.
"From the point of view of the government of Mauritius, its justice and legal system, they need this to be physically nailed down and dealt with properly - and to be shown to be dealt with properly."