New school builds main casualty of education budget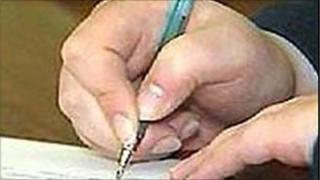 The education minister has revealed that new school builds will be the main casualty in a bid to save hundreds of millions of pounds.
To avoid large-scale job losses, Caitriona Ruane intends to shift £41m from the school building "capital" budget to pay instead for services and staffing.
Job losses are still expected.
At least £10m has been set aside to pay for redundancies over the next two years.
The plans are outlined in the department's budget plans for the period 2011/12 to 2014/15.
The money for school building work was already due to be cut and this decision will double the shortfall next year.
Education Minister Caitriona Ruane said she had chosen to transfer money from the school capital budget to "minimise the impacts in the classroom".
"I want to continue funding our teachers in the classroom, our classroom assistants, because they are our single most important resource," she said.
"The best way of raising standards is by ensuring that we have the highest quality teaching."
In cash terms, the education department is the biggest loser and is having to struggle with a shortfall of £300m over four years.
The minister plans to cut other costs, such as the bills for substitute teachers and school transport, the cost of providing computers, and support staff to schools.
The cost of vetting checks for people applying for jobs with children will be shifted from the employer to the applicant.