DARD budget says 80 jobs will go over next four years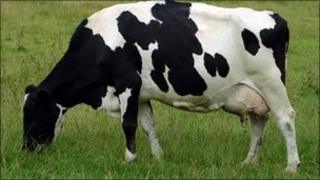 The Department of Agriculture (DARD) is to cut 80 posts from its workforce of more than 2,700 staff.
The reductions are part of the department's draft budget which aims to save £43m over the next four years.
The department also intends to move its headquarters from Dundonald House in Belfast to an unnamed rural location.
Compensation paid to farmers for cattle culled because of tuberculosis or brucellosis will also be cut.
The department said a range of steps are being taken to manage the expected reduction in the number of posts, such as an embargo on recruitment and promotion.
The impact of price inflation (assumed at 2% per annum) represents reductions in the department's day to day spending of 7.1% by 2013/14 and 10.7% by 2014/15.
However, extra money is being allocated to move the department's headquarters from Dundonald House to an as yet unnamed rural location.
There will be speculation that the new headquarters may be built at the Loughry site near Cookstown where the minister, Michelle Gildernew, already works at least one day per week.
Another possibility would be the Maze site, as part of a wider agricultural village-type development.
Headquarters outside the greater Belfast area would, states the budget document, enhance the quality and availability of public sector jobs in rural communities.
Cutting the costs associated with controlling tuberculosis and brucellosis in cattle herds are also part of the budget plan.
Staff savings
Reductions are anticipated in the amount spent on compensating herd owners for cattle which are culled.
A decrease in the incidence of brucellosis is expected to allow for staff savings.
The department is also planning to reduce costs by allowing trained technical staff rather than vets to carry out some of the routine testing of herds.
It said the use of similar staff in other parts of the UK was "perceived favourably by herd keepers in terms of standard of service".
The Department has been allocated an additional £9m next year to help remedy problems with farm maps which contributed to subsidy disallowances of over £60m by the EU.