4,000 jobs could be at risk in NI health cuts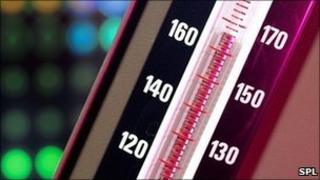 Up to 4,000 jobs in the health service could be lost over four years as a result of the NI budget cuts, health officials have warned.
To provide an efficient service, officials said they needed £5.4bn by 2015 - instead they are to get £4.6bn - a shortfall of £800m.
The elderly and the most vulnerable will be worst hit by stringent cuts.
The Northern Ireland department's spending plans were published on Thursday.
Some of the 4,000 predicted job losses will be through natural wastage and retirement but there will be some compulsory redundancies.
Health Minister Michael McGimpsey said claims by some ministers that health has been protected are bogus.
"What we have is a draft budget proposal voted through by three parties of the executive, the DUP, Sinn Fein and the Alliance party, and they are cutting the health budget," he said.
"The health budget is down by 2.4% in real terms after four years, and it still means that all of the extra demands that are coming into the system with an increased population, we're the fasting growing population in the UK, none of that is accounted for or paid for."
The health union Unison has vowed to fight the planned cutbacks and said the assembly should refuse to implement them.
Unison's Patricia McKeown said the executive must "rethink" the health budget.
"We want to see a united assembly," she said.
"We want to see people, like the health committee up at Stormont, backing what we're saying and working together, all politicians together.
"They have allowed the UK government to wipe billions off the NI block grant and it looks to me, at this point in time like they have rolled over.
"They are going to have to start doing something about that.
"They have put the health and well-being of the entire population at risk."
Health officials have also warned that waiting lists will get longer while patients will not be able to access the most up to date drugs, such as cancer medication.
New buildings may also lie empty.
Mr McGimpsey said there would also be a massive reduction in the number of home-care packages and while the satellite radiotherapy unit in the grounds of Altnagelvin hospital in Londonderry will be built, there will be no cash to run it.