Skeletons could be Londonderry siege grave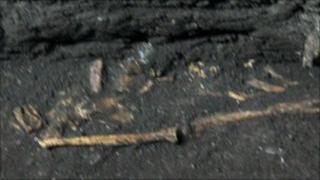 Skeletons discovered underneath a Londonderry church could be evidence of a siege grave, according to archaeologists.
Thousands of people died in the siege sparked when a group of apprentice boys closed the gates of the city against the approaching army of King James II in 1689.
Two complete skeletons and an individual skull have been uncovered beneath First Derry Presybterian Church on the city walls.
Cormac McSparron from the Centre for Archaeological Fieldwork at Queen's University in Belfast, who is leading the excavation, said there was a "strong possibility" the remains dated from the siege period.
"We found a stone wall running between the two trenches we dug, which we suspect was the first incarnation of St Augustine's church, which was built in the eary 1690's from a grant given to the city by Queen Mary to reward them for their loyalty during the siege.
"Underneath this wall was a number of sets of human bones.
"The trenches are approximately 200 metres apart, so it seems reasonable to extrapolate that there were probably quite a lot of burials within that area."
Siege artefacts
Artefacts discovered along with the remains helped the archaeologists to date the find to the siege period.
"We found things like clay pipes which are all dateable to the 17th century.
"We also found Staffordshire pottery and German stoneware which are very characteristic of the later part of the century.
"There is also a slightly different orientation between the two graves, which usually in a graveyard would be laid out in a regular pattern, but that's not a hard and fast rule."
But Mr McSporran said it was unlikely archaeologists would ever discover for certain if the remains were part of a siege grave.
"We would need to do further excavations, and we don't like to disturb graveyards unless they're under immediate threat.
"If we were forced to excavate a wider area, and we found in some of the skeletons evidence of famine or war-related trauma, then that would be a much stronger indication."
The hope is that many of the artefacts will eventually go on display at First Derry Presbyterian Church.
The existing structure, which dates from 1780, is a Grade B+ listed building which is currently undergoing extensive renovation work.
Part of this includes the construction of an interpretative centre, where Mr McSporran hopes some of the artefacts will eventually end up.
"Once we have finished examining and recording the artefacts they will be available to the church to use in their exhibition.
"This is the people's heritage, and it is important the community can learn about their ancestors and see how the city developed."