£300m 'swiped from NI to sort Treasury' says Wilson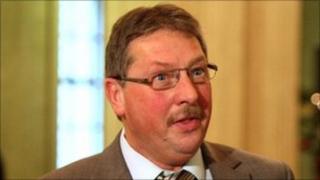 £300m of Westminster funding is being "swiped" from Northern Ireland to sort out a hole in the Treasury's finances, Sammy Wilson has said.
The NI finance minister said he and his counterparts in Wales and Scotland "fought vigorously" to block the move.
Until now, NI government departments could carry money over to the next financial year. But Treasury rules have changed without notice.
The Department of Education in NI is losing £87m which had been set aside.
Government sources have confirmed that, in total, Northern Ireland is losing £300m worth of funds.
Up until 2008, the Department of Education in Northern Ireland had accumulated a reserve of £87m.
Under the new arrangements, the money will no longer be available to schools to draw on to cover future spending plans.
Mr Wilson said: "This is not about departments being careless about spending. It was planned, money was allowed to be carried over.
"The Treasury always allowed this. Then, without notice, a decision was made to take it away. It was really just swiping money which had built up in Northern Ireland to sort out a hole in their finances."
The finance minister said the first and deputy first ministers had also raised their concern, but to no effect.
"Education has the biggest pot of money," he said.
"This was good financial planning. Then, with a sweep of the pen, it was removed. This has been imposed on the executive and we have fought vigorously against it."
Education Minister Caitriona Ruane said the money had been built up from schools' unused funding and its removal was "unacceptable".
The Northern Ireland Office (NIO) said that "regrettably" it was necessary to change the rules on overspends to help tackle the record UK public spending deficit.
In a statement, it did not mention the £300m underspend accumulated up until March 2010 that has been erased under the changes to what is known as End Year Flexibility (EYF).
Instead it highlighted this year's underspend, saying it could be carried forward.
In a statement, the NIO said: "This amounts to some £217m and has been agreed with the executive.
"It has also been agreed - exceptionally - that if the executive wishes to carry over money to the next financial year it may do so, if the cut in spending in the current year is agreed in advance."
Finance Minister Sammy Wilson accused the NIO of trying to confuse the fact that more than £300m has been taken away.
"This is typical of the spin that we are getting used to from this Conservative government," he said.
"They throw in all these figures to obscure the true position, which is that after they make allowances for all of these figures, they have taken £316m of money which was due to Northern Ireland.
"This is money that was allocated to us because they believed it was our right and we deserved it."