Newry students invent gadget to stop dialling drivers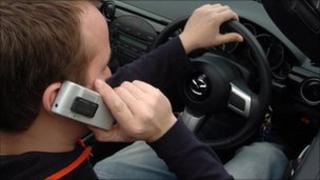 Two GCSE students from Newry have come up with a way to prevent people making phone calls while driving.
Abeer Shahid and James McCartan developed the jamming system for this year's BT Young Scientist of the Year competition at the RDS in Dublin.
The two 16-year-olds are students at Abbey Christian Brothers in County Down.
James said the pair came up with the invention because of the number of people who still use their mobile phones while driving.
"There are about 170,000 incidents where people were caught using their mobile phone while driving in the UK last year. That can't go on, there are too many crashes and too many car accidents caused by this," he said.
It is illegal in the UK to use a hand-held mobile phone or similar device while driving.
Future development
According to the Department for Transport, using a mobile phone while driving means you are "four times more likely to crash".
Abeer explained how the device works: "The idea is that whenever you are driving, the mobile blocker sends out a signal and this basically causes the phone to not receive any signal at all so you can't use your phone while you are driving."
The jammer is wired into the car's ignition and brake system and prevents all mobile phone use unless the handbrake is on.
While there may be some irony in the fact that the students have entered a telephone call-blocking gadget in a competition sponsored by a telephone company, Abeer and James have high hopes for their invention.
"The possibilities are definitely there for future development and it could definitely be sold to car manufacturers or other companies that encourage safe driving," said Abeer.