Swine flu virus claims two lives in NI since November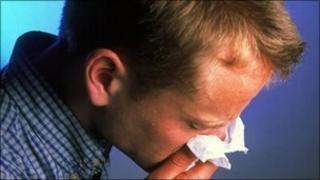 The Public Health Agency (PHA) has confirmed that two otherwise healthy people have died from swine flu in NI since November.
The PHA said 17 people with the H1N1 strain of flu have died - an increase of three on a previous update.
The agency is awaiting the results of tests to determine if another person who died had other medical problems.
However, a PHA spokesperson said the outbreak was "not a pandemic," but described it as "seasonal flu".
Dr Lorraine Doherty of the PHA said she did not think people should be alarmed that two otherwise healthy people had died from swine flu.
"I think people should just be aware that flu is circulating in our community," she said.
"This is obviously very tragic for the people involved but in comparision to the rest of the UK, the overall proportion of people who died from swine flu who did not have underlying conditions, remains low."
The PHA said there had been no deaths of pregnant women, but a child with the virus had died.
In its latest flu bulletin published on Thursday, the agency confirmed that in the first week of January, there were 204 new laboratory confirmed cases of swine flu in Northern Ireland compared to 200 in the last week of December 2010.
It said the figures showed that although flu was continuing to circulate in the community, "the rate of increase in new confirmed cases is slowing".
Dr Carolyn Harper, Director of Public Health for Northern Ireland, said: "In the UK last year, around 23% of people, who died from swine flu, had no underlying conditions.
"The current figure here is now 13%.
"Our numbers are small and should not be over interpreted, but advice we have is that the current pattern of swine flu here is not different to that in other parts of the UK."
Impact
She said vaccination still remained the most effective way to protect those who were "most at risk from flu and its complications".
Dr Harper said: "While many people in the 'at risk' groups who have been offered vaccines have taken up that offer, some have not.
"It is not too late to get protected and you should see your GP about being immunised as soon as possible."
At a briefing on Thursday, Health and Social Care Board chief executive John Compton, outlined the impact of flu and seasonal winter pressures on health services.
He said that as of Wednesday, 30 out of 83 adult critical care patients and four out of eight paediatric critical care patients were being treated for flu.
"Of all patients being treated in hospital in Northern Ireland today, approximately 3% have been confirmed with swine flu or are suspected as having it," he added.
"This is not unusual at this time of year when flu is most prevalent.
"The service continues to be busy with flu and seasonal winter pressures continuing to pose a challenge, however these pressures are being effectively managed across Northern Ireland and normal escalation arrangements are in place to cope with any expected demands at this time."
During the pandemic last year, 19 people died from the H1N1 virus, all but one of whom had an underlying condition.
The authorities were unable to establish whether the other victim, a pregnant woman, had an unknown underlying health problem which may have contributed to her death.