Son questioned over mother's suspicious death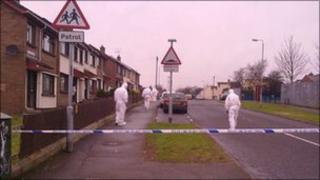 The son of a woman who died in suspicious circumstances in Londonderry on Tuesday is one of two men being questioned about the incident.
On Thursday the city's magistrates court granted police more time to interview Liam Carlin, 21, from Clonmeen Drive, and Kevin Downey, also 21, from Bracken Park in Derry.
The body of Liam's mother Paula was found at their home in Clonmeen Drive.
Police have until midnight on Thursday to continue questioning the two men.
A detective constable told the court that ten more witnesses had yet to be interviewed, and said the scene of the 45-year-old woman's death was still being preserved for further forensic examination.
He also said CCTV footage was being assessed, and mobile phone and SIM card evidence was due later on Thursday, and he wanted to put all the evidence to the two suspects.
Mr Carlin's solicitor said there was insufficient evidence against his client, and said nobody was in Ms Carlin's house when died.
He also said the results of the post-mortem examination stated it "could not be ruled out" that the victim had been struck by an object.