New home for Strabane 'Tinnies'?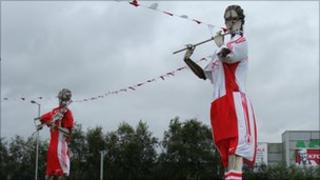 Strabane's iconic sculptures, nicknamed the 'Tinnies', could be moved to make way for a dual carriageway to Dublin.
There are fears that the famous steel musicians, which currently stand beside Lifford Bridge, would be obscured by a proposed flyover.
Discussions are underway on the statues' future, but a decision has not yet been taken.
The chair of the town council, Michaela Boyle, said she wanted to ensure the sculptures were in a "prime location".
"We hope it will not be the case that the 'Let The Dance Begin' sculptures will have to move, but it may well be the case.
"We are liaising with the Department of Regional Development, and no decision will be made until everybody has been consulted.
"In the event of the Tinnies being moved, we at council will be doing our very best to make sure they are moved to a prime location somewhere at the entrance to Strabane," she said.
A spokesperson from the DRD said that while the sculptures are located on land included within a draft Vesting Order, the land would only be required temporarily to facilitate construction.
"It is hoped there would not be a need to remove the sculptures, and Roads Service is currently in discussion with both Strabane District Council and the contractors to discuss the various options."