Strabane swine flu mum warns others to get vaccine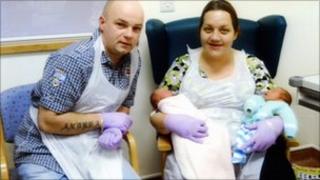 A Strabane mother who contracted swine flu while she was pregnant with twins has urged other expectant mothers to get vaccinated.
Andrea Burke delivered two healthy babies five weeks early after being taken to hospital with breathing difficulties.
Fourteen people have died from the virus since November. It's not clear how many had underlying problems.
Mrs Burke said she believed she would have died had she not been vaccinated.
"At the time I didn't realise how serious it was," she said.
"They made the decision that the babies would have to be delivered by emergency section as my breathing had got very bad.
"They took me to theatre and delivered the babies very quickly.
Life or death
"A couple of hours after delivering them my breathing deteriorated, and I was rushed into intensive care where I had to wear a hood to help me breathe.
"I didn't realise how ill I was, but my husband and mother knew it was life or death."
She added: "I would urge any expectant mother to get the flu jab.
"I think it went in my favour and my babies' favour, but when I think of what could have happened, I think it's very important everybody gets it."
On Wednesday it emerged that swine flu vaccines were being made available to GPs to supplement their stock of the seasonable flu jab.
The seasonable jab is a three-in-one vaccine which includes protection against swine flu. The swine flu vaccine only protects against the H1N1 virus.