Future of Derry-Dublin flight in doubt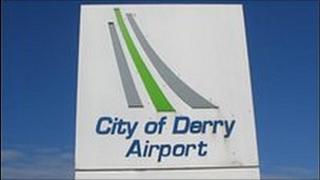 The future of the Aer Arann Derry to Dublin flight is in doubt after the Irish government said it would no longer fund the route.
The airline relies on a subsidy to operate the flight, but the money will end in July.
The manager of City of Derry Airport, Damien Tierney, said he's confident another carrier will step in.
"The route has in the past been very successful, and I'm confident it can work as a purely commercial route."
"We're hopeful we can secure that, and we believe the route can justify it."