PHA to brief media on latest swine flu figures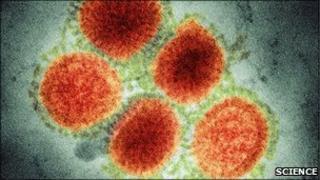 The media are to be briefed by the Public Health Agency (PHA) on Thursday on the latest swine flu figures in Northern Ireland.
It is the first such official briefing to take place since health officials met journalists on a weekly basis during the pandemic in 2009.
Fourteen people have died so far here from the virus since November.
It is still unclear if any of those who died did not have underlying health problems.
Last week, after criticism over the lack of information, the Public Health Agency finally published the number of people who have died in NI from the virus since November.
However they were unable to clarify whether or not any of these people had no health complications.
The PHA said this information was either unavailable or was difficult to collect.
But one retired health trust worker, whose job is was to collate such data, said every hospital records a patient's medical history on admission.
The member of the public, who was a retired clinical coding officer with a local health trust, said every hospital has strict procedures in place to collect such information.
The woman who wished to remain anonymous said the information is easily accessed.
"It is very easily accessible, either through physically reading the notes or by contacting the clinical coding department and asking have you noticed an increase in flu like symptoms," she said.
"I think it's a case of let's not cause panic."
A national bulletin will reveal if Northern Ireland has a disproportionate number of deaths compared to England.