Court orders Maghaberry Prison strip search review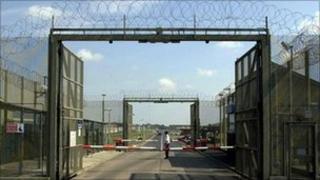 An NI prisoner has won the right to challenge prison strip search policies in a case which could have implications for regimes throughout the UK.
Brendan Conway was granted leave to seek a judicial review of the process at Maghaberry prison.
Mr Conway is challenging routine full-body searches on inmates entering and leaving the prison.
He also claims rules are being breached by use of force on prisoners who do not give consent but do not resist either.
The Belfast man is understood to be in custody in connection with an alleged kidnapping in 2008.
His legal team argue that the system flouts his rights to privacy and freedom from torture, inhuman or degrading treatment under the European Convention on Human Rights.
He alleges that force was used to remove his clothes and expose his body on a number of occasions.
The High Court was told that video footage of one incident last year has been viewed his lawyers.
Forcible
Barry Macdonald QC, for Mr Conway, said: "The challenge relates to the policy of conducting forcible strip searches in those circumstances where the prisoner does not consent but does not physically resist."
Tony McGleenan, representing the Prison Service, pointed out that prisoners who do not agree to the process are first given time to reflect.
But granting leave to apply for a judicial review the judge, Mr Justice McCloskey, said he was satisfied that an arguable case had been established.
A full hearing is now due to be held next month.
Outside the court Mr Conway's solicitor, Paul Pierce of Kevin R Winters and Co, stressed the significance of the case.
He said: "It raises very significant issues regarding the lawfulness of the policy to carry out forcible strip searches on someone who, although not complying, is offering no resistance.
"We have seen the video recording, and the actions of the prison service in carrying out the forcible strip search were excessive.
"This has implications for prison service search policies throughout the United Kingdom."