NI departmental budget delays 'contempt for public'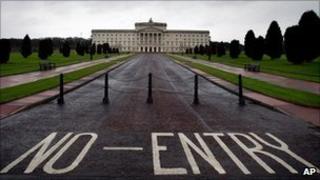 There is growing concern about several government departments' failure to publish their budget plans.
When he published the overall budget in December, the finance minister said the public would have two months to consult on how it would affect each department.
However, five departments, including education and health, have not yet released their action plans.
Stephen Farry of the Alliance Party said the ongoing delay was "treating the public with contempt".
Northern Ireland was the last devolved region to formally agree a budget.
The delay came amid Sinn Fein calls for the executive to resist "Tory cuts" and the DUP finance minister Sammy Wilson appealing for "realism".
The Chancellor's Comprehensive Spending Review said Northern Ireland would have find to find cumulative savings of £4bn over the next years.
The consultation began when the budget was published on 15 December and will finish on 9 February.
The economist John Simpson said he believed that some ministers are finding it difficult to face the reality of significantly reduced budgets.
He added: "To some extent, the ministers are still arguing implicitly in public that they really want Sammy (Wilson) to revise his budget and find more money."
Narrowing window
The Department of Social Development is expected to publish its plans on Wednesday, leaving five who will not yet have done so.
Mr Simpson said health was the department which was being watched more closely than any other amid question marks over whether it would be able to live within what it had been given - a relatively small rise which does not take into account inflation.
Seamus McAleavey of the Northern Ireland Council for Voluntary Action said the narrowing window of consultation was a concern.
He said it was not clear that it could easily be extended because of the need to have the overall budget signed off in time for the new financial year.
"For the consultation to be in any way meaningful and for people to have any sort of view, they really need to see all those spending plans.
"If departments are thinking about the bad news that is to come, we need to see that up front. There is no good in hiding it and trying to keep it away from us."