MLAs are "treated like mushrooms" over draft budget.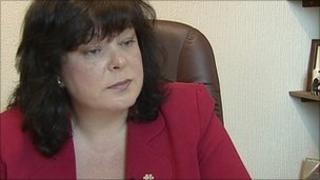 A member of the assembly's finance committee said MLAs and the public were being "treated like mushrooms" when it came to the draft budget.
Dawn Purvis said people were being left in the dark.
She made the comments as members discussed the failure of the department to come up with real term cuts.
On Tuesday it emerged that the finance minister gave an inaccurate figures when comparing health cuts in Scotland and NI.
In the committee meeting members discussed the erroneous figures Sammy Wilson gave to the assembly on Scottish health spending.
A briefing note prepared for the Stormont finance committee by assembly research highlighted the mistake.
Misleading
Mr Wilson had said that the Northern Ireland health budget would increase by 7% over the next four years.
He added this compared favourably with a real reduction of 3.03% in Scotland. However, the accurate figure is .303% - 10 times lower.
They also discussed Mr Wilson's failure so far to correct the error.
Members described the background to the minister's comparing four year health figures in Northern Ireland with one year figures in Scotland as "cynical" .
David McNarry said he was surprised the minister had failed to correct the matter and said the error could be tantamount to misleading the house.