Patten police redundancy bill hits £500m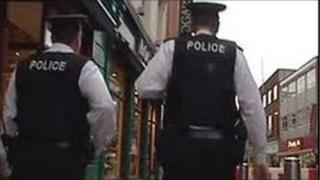 The Patten redundancy scheme for police officers, which will come to an end in 10 weeks time, has cost almost £500m, the BBC can reveal.
The scheme was a key part of the Good Friday Agreement and was aimed at increasing the number of Catholics in the PSNI, which replaced the RUC.
It included a retirement package which encouraged thousands of RUC officers to leave during the past 10 years.
That made room for new recruits - 50% of whom had to be Catholic.
In 1998, the former Hong Kong governor Chris Patten was brought in to reform policing as part of the Good Friday Agreement.
There are just over 7,000 police officers in Northern Ireland, and almost 30% are now Catholics, compared to just 8% of members of the RUC.
The deal negotiated by Mr Patten amounted to what is regarded as one of the most generous redundancy packages ever offered anywhere in the world.
The cost has been enormous - figures obtained by BBC Newsline reveal that up to the end of November last year, Patten payments totalled almost £475m.
During the past 10 years, more than 4,000 regular officers have taken voluntary redundancy, while almost 1,000 members of the full-time reserve left under a compulsory severance scheme.
The cost is expected to rise to more than half a billion pounds by the time the scheme ends in just over two months time.
By then, another 160 regular officers and nearly 270 members of the full-time reserve are due to receive Patten payments.
Those eligible for Patten payments include two of the PSNI's most senior officers - Deputy Chief Constable Judith Gillespie and Assistant Chief Constable Duncan McCausland, who are each due to receive lump sums of more than £500,000.
If they decide to stay in their jobs beyond the end of March, they will lose those payments.
Speaking at the Ulster Unionist Party conference last month, Chief Constable Matt Baggott said he was concerned that the loss of so many experienced officers under the Patten process had reduced the ability of the police to deal with the dissident republican threat.
Nationalist politicians involved in negotiating the policing reforms say it was a price worth paying - but are concerned that hundreds of officers who received generous redundancy packages were later re-employed as civilian staff working for the PSNI.