Queen's University heart research gets £200,000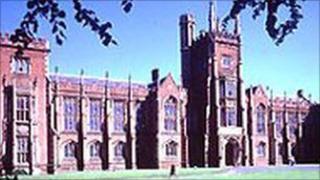 Researchers at Queen's University Belfast have been given a £200,000 grant to work on new therapies to prevent irregular heart rhythms.
The grant has come from the British Heart Foundation (BHF) NI.
It has pumped almost £800,000 into research at Queen's over the past two years to tackle heart disease, Northern Ireland's biggest killer.
The research team at Queen's wants to develop gene or drug-based therapies.
Dr Anthony Collins, from the Centre for Vision and Vascular Science in Queen's School of Medicine, Dentistry and Biomedical Sciences is leading the new research project.
He explained: "The pumping action of the heart has to be very regular in order to pump blood around the body efficiently.
"In a diseased heart this pumping action can become irregular which means the blood is not delivered to the vital organs.
"This research is looking at the changes that take place in the muscle of a diseased heart - the changes that cause the irregular heart beat.
"Our long-term aim is to look at ways of making the heart muscle better by developing gene or drug-based therapies."