Abuse inquiry panel moving to Armagh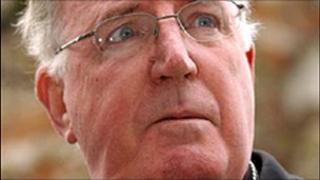 The Apostolic Visitation set up by the Pope last year will cross the border into Northern Ireland on Thursday.
Pope Benedict announced the Visitation in March last year in a pastoral letter to Catholics in Ireland.
It followed the publication of reports into abuse in Catholic institutions and in the Dublin archdiocese.
The event at the City Hotel in Armagh on Thursday night will be the first public meeting held in Northern Ireland by the inquiry panel.
It is being led by Cardinal Cormac Murphy-O'Connor, the retired archbishop of Westminster,
Another meeting is scheduled for the Glenavon House Hotel in Cookstown on Friday night.
The Pope's letter expressed sorrow and regret at the abuse perpetrated by priests on the island.
He said he would send teams of inspectors to some Irish dioceses, seminaries and Irish religious orders to investigate how far they had strayed from the new rules laid down by the Vatican to try to curb clerical abuse.
Five senior prelates are taking part in the inquiry panel.
As well as Cardinal Murphy-O'Connor, the others are Cardinal O'Malley, Boston, Archbishop Timothy Dolan, New York, Archbishop Thomas Collins, Toronto, and Archbishop Terence Prendergast SJ, Ottawa.
Cardinal Murphy O'Connor is conducting the visitation of the Armagh archdiocese.
Among those accompanying him are Dr Sheila Hollins, professor of the UK Board of Psychiatry.
Meanwhile, a US lawyer who specialises in clerical abuse cases has said he is to sue the Catholic diocese of Clogher, which takes in parts of Fermanagh, Tyrone, Monaghan and Donegal.
Jeff Anderson has co-founded a London-based law firm - Jeff Anderson - Ann Olivarius Law - to bring sex abuse lawsuits against churches in Britain and Ireland.
Mr Anderson told the Irish Times newspaper the firm's first joint case would be taken in Minnesota against a retired priest from the Clogher diocese who was moved to the US in the 1980s.