Hilden Development's £45m loans go to Nama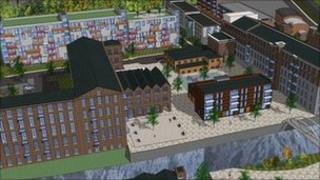 Another NI-based property company's bank loans are being transferred to the Irish government's National Assets Management Agency (Nama).
Hilden Developments (NI) said more than £45m loaned to it by Irish Nationwide Building Society is now owed to Nama.
Nama is taking control of practically all property development loans made by the Dublin-based banks.
It is part of the Irish government's plan to revive the near-collapsed banking industry.
Hilden Developments (NI) aims to create 600 homes at the old Barbour mill at Hilden, near Lisburn.
The scheme received planning permission last year.
Although Hilden Developments (NI) is registered in Northern Ireland, it is ultimately controlled by the English company Galliard Homes, which is owned by two veteran property figures Stephen Conway and Jack Petchey.
In their recently filed annual accounts, the directors of Hilden Developments (NI) said that thus far Nama had supported the company.
However, they added that although they have attempted to engage Nama in discussions the agency had given no indication if it intends to extend the loan facility.
That uncertainty and lack of information has meant that the company's auditors have been unable to prepare the accounts on the usual going concern basis.
Late last year, another firm, PBN Property, said its loans from Bank of Ireland had been transferred to Nama.
When it filed the report on 5 November, PBN said its loans from Allied Irish Bank and Anglo Irish Bank were due to be transferred soon.
PBN's balance sheet indicates that more than £200m in loans could be due to be taken over by the agency.