Three in court over Michaela Harte honeymoon murder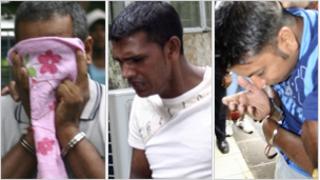 Three hotel staff have appeared in court in Mauritius charged in connection with the murder of Michaela McAreavey on her honeymoon.
Two of the men were charged with murder and one with conspiracy to murder.
Mrs McAreavey, 27, the daughter of Tyrone Gaelic football manager Mickey Harte, was found strangled at the Legends Hotel on Monday.
The three in court were Avinash Treebhoowoon, 29, Sandip Moneea, 41, and 33-year-old Raj Theekoy.
Mr Trebhoowoon and Mr Moneea were charged with murder. Mr Theekoy was accused of conspiracy to murder.
One of the defendants claimed he had been beaten while being questioned by police.
The men were remanded in police custody for a week and will return to court next Wednesday, when they are expected either to be formally charged or released.
Comfort
The BBC's Justine Lang, who was outside the court in Mapou in the north of the island, said the key cards used to access the hotel room are believed to be central to the investigation.
"They can tell from the electronic magnetic strip who entered the room and when," she said. "We are told that someone entered the room two minutes before she (Michaela) entered."
Mrs McAreavey had married her husband John, a member of Down's Gaelic football team, on 30 December.
She taught Irish at St Patrick's Academy in Dungannon, County Tyrone.
Her brother Mark and John's brother Brian have arrived on the island.
BBC NI reporter Mervyn Jess, who was on the same flight, spoke to them briefly.
"Brian told me he could not wait to get to his brother to provide some sort of comfort for him," he said.
'Beautiful daughter'
On Tuesday, Mickey Harte, a celebrated manager in one of Ireland's most popular sports, paid tribute to his "beautiful" daughter.
"She was a wonderful daughter, a brilliant sister for the boys and we will always treasure her," he said.
"What a day she had on her wedding day. She was just radiant - a beautiful girl, I just love her to bits and so does all our family.
"Michaela was a wonderful lovely wee girl who grew into a beautiful lady. Just radiant. She is just so special.
"She will always be special to me and this family. We will miss her so much but we love her to bits and her spirit is with us still."
Mr Harte said that his daughter's husband was also in everyone's thoughts.
"We are so sorry. We are equally sorry for poor John whom she adored and who adored her," he added.
"They did not get long to share their lives with each other. It is just such a shame, our hearts are broken."
Mr Harte also appealed for privacy for the families and friends to allow them to grieve.
"I know there are lots of people who have had this experience before and we have tried to empathise with them, but you can't get the feeling unless you've been there," he said.
"God save anybody from having to go to this place.
"This is our day to bear this cross."
Police Inspector Ranjit Jokhoo told the BBC that Mr and Mrs McAreavey had been having a cup of tea at an outdoor cafe after using the swimming pool at the Indian Ocean resort.
Mrs McAreavey then went back to her room, which was about 50m away, to fetch something, said to be biscuits for her tea, Insp Jokhoo said.
When she failed to return after 20 to 30 minutes, her husband went to the room to look for her. He found her dead in the bathtub in the room.
The inspector said that the killer had used an electronic key card to enter the room, as there had been no forced entry. He said that nothing had been stolen.
It is expected that the funeral mass for Michaela McAreavey will take place at the church where she was married - St Malachy's in Ballymacilroy, County Tyrone.