Bullets in post target Celtic footballer Paddy McCourt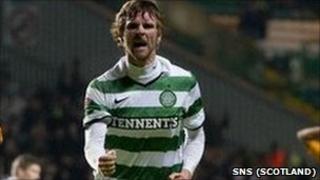 Bullets sent a to Celtic footballer Paddy McCourt have been discovered just days after a team mate and his manager were sent similar packages.
The envelope addressed to McCourt, a winger from Northern Ireland, was found by staff at a Royal Mail sorting office in Glasgow.
Bullets sent to Celtic boss Neil Lennon and player Niall McGinn at their club were intercepted earlier this week.
The packages were posted in Northern Ireland and found in County Antrim.
Police were called to the sorting office in Northern Ireland after postal staff raised concerns about the two packages.
Neil Lennon, a former Celtic captain and Northern Ireland international, has received death threats in the past.
Northern Ireland's Sports Minister Nelson McCausland said the threats were "utterly reprehensible".
"Whatever perverse or perverted thinking prompted someone to send these packages, it's obviously got to be condemned by every right thinking sports fan in Northern Ireland," he said.
"This is totally against all that we want to see for sports in Northern Ireland."
Police investigating the first incident asked anyone with information to come forward.