Seasonal flu jab stock boosted with swine flu stocks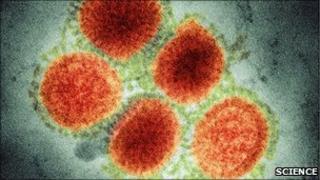 Supplies of the seasonal flu jab in NI are being supplemented with stocks of the swine flu vaccine to meet demand.
The seasonal vaccination is a three-in-one jab which includes protection against swine flu.
More people than normal are asking for the seasonal jab, putting pressure on supplies.
GPs and health trusts are now being given extra stocks of the H1N1 jab to ensure that everyone is protected against swine flu.
The Department of Health said over 410,000 doses of the seasonal flu vaccine have been distributed to GPs and trusts.
Dr Brian Dunn, chair of the BMA GP committee, said there is a "surge" in the number of people asking for the seasonal vaccine. .
"That is unusual in that most people get it in October or November," he said.
"Generally by this time of the year we wouldn't be vaccinating people, but because of the media interest in this a lot of people who either didn't turn up, or didn't get it are requesting it," Dr Dunn said.
"So obviously now there is more pressure on the supplies of the vaccine."