Wilson 'gave inaccurate figure' in assembly briefing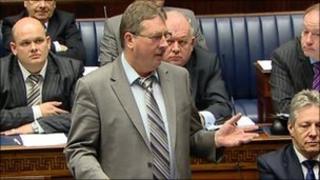 Finance minister Sammy Wilson gave an inaccurate figure to the assembly when comparing health cuts in Scotland to Northern Ireland's spending plans.
A briefing note prepared for the Stormont finance committee by assembly research highlighted the error.
The note also pointed up misleading comparisons between health spending in Scotland and Northern Ireland.
Sammy Wilson made the error when answering a question in the assembly last month.
He said that the Northern Ireland health budget would increase by 7% over the next four years.
He added this compared favourably with a real reduction of 3.03% in Scotland. However, the accurate figure is .303% - 10 times lower.
The note also said the minister was comparing a cash increase in Northern Ireland over the next four years with decreases in real terms in Scotland over just one year.
It further states that the Scottish figure refers to cash - not capital - spending and that, like for like, figures reveal Northern Ireland is facing a 1.18% cut in real terms between 2010 and 2012 - a greater reduction than in Scotland.
A spokesman for the finance department disputed this and insisted its calculation showed no change in health spending, adding that the minister intended to correct the inaccurate figure on Scotland.