Ex-partner testifies in Newtownabbey baby killing case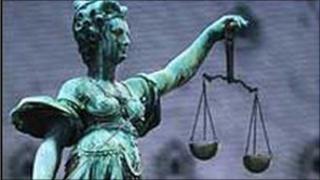 A mother whose baby died two years ago has given evidence in the trial of her former partner - who is accused of the child's murder.
Sheree Black told Belfast Crown Court she would not have left her son in Ryan Leslie's care if she had known he had tried to kill himself the previous day.
Mr Leslie who's 26 and from Ballyvessey Green in Newtownabbey denies murdering his baby son Cameron.
The child died in September 2008, aged just 14 weeks.
The court has already heard that baby Cameron suffered a blunt trauma injury to the back of his head.
It was this injury that was to cause his death. He had also suffered a total of 14 broken ribs before he died.
Ms Black told Belfast Crown Court that Mr Leslie had attempted suicide on a number of occasions while they were together, but she saw this as "attention-seeking behaviour".
After the pair broke up, the baby was left in his father's care on a number of occasions.
The child was given to Mr Leslie on a Tuesday in September 2008.
Ms Black told the court that the arrangement had been that Cameron's father would look after him for one night.
However, on the Wednesday, Mr Leslie phoned her to ask if the baby could stay with him that night as well, saying "Cameron is brilliant".
The child was rushed to hospital the next morning and was clinically dead by the following day.
Ms Black said that it was only after he had been arrested that she found out Mr Leslie had attempted to take his own life on Monday that week.
She said she was "absolutely livid" when Mr Leslie's parents informed her of his suicide attempt.
"If I had known I would not have left my child in his care," she added.
On cross-examination, Ms Black accepted that prior to Cameron's birth both she and Mr Leslie had been drug users - smoking cannabis frequently and occasionally taking ecstasy and cocaine.
She accepted the description of their 22-month relationship as "stormy" and detailed a number of incidents of violence in the family home.
However, she said that she never thought that Mr Leslie would harm their child.
"No matter what Ryan may have done to me, I never ever thought he would do anything to endanger his son," she said.
The case continues.