Plan to cut 150 jobs at Department of the Environment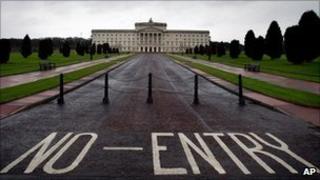 Staff at the Department of the Environment face a fresh round of job losses, with an additional 150 posts earmarked for closure in its draft budget.
This is in addition to the 150 posts still to be removed under an existing cuts programme.
Workforce reductions over the next four years will amount to 300 posts.
The department said most of the cuts will happen over the next 12 to 18 months.
Meanwhile, it has emerged the department will face financial pressures because of the length of time it will take to introduce legislation for a levy on plastic bags.
It is expected to raise £4m a year and that money is already being stripped from the department's budget to fund the green new deal.
As well as a 6% cut in its current expenditure budget this year, the department will also have to absorb a continuing drop in its income from planning fees, estimated at £6m next year.
It also needs to identify savings of more than £1.5m annually to cover agreed increases in civil service pay.
BBC NI Rural Affairs Correspondent, Martin Cassidy, said it was clear that some of the department's environmental goals "will be compromised".